It's
2010 Twins Predictions Day
here in the Twins' blogiverse! I
kind of did this earlier
, but since Josh Johnson was kind enough to email me this form, I decided to put together my thoughts on the upcoming season in a much more coherent fashion. Although, I have been drinking a lot of cough syrup lately (hey, I have a cold!), so this might be interesting. Here we go:
Twins-Specific Predictions
Twins MVP: Man Muscles. He's going to hit
60
45
20 home runs this year.
Twins Top Pitcher: Francisco Liriano. Stop me if you've heard this one before: he's looked really sharp this spring, albeit against some pretty mediocre competition. However, if his slider continues to have that same sharp bite, and if he can continue to locate his fastball like he's been doing all spring (which was a big problem last year), F-bomb should easily handle major-league hitters.
Twins Best Rookie: Anthony Slama or Danny Valencia, whoever gets here first.
Twins Most Improved Player: Delmon. Yep, the player with the most improving to do is going to be the most improved player this year. Bold prediction, I know.
A.L. Central Prediction (Standings):
Twins: 85-77. Yeah, they're missing a closer and the rotation is a bunch of number three starters at best, but this still looks to be the least flawed team of the deeply flawed AL Central. The lineup will prop up the suspect pitching by scoring a billion runs. Book it.
Tigers/White Sox/Indians: 79-83. Eh, I can't decide who's going to end up in second, third, and fourth place. Each of these teams has its flaws, with the Indians currently leading the American League in "ifs" (if Jake Westbrook can rebound from Tommy John surgery, if Grady Sizemore can rebound from elbow surgery and his
unfortunate teacup incident
, if Shin-Soo Choo doesn't get traded at the deadline
because he won't sign a contract extension
, well, you get the idea). The White Sox are relying on the likes of Jake Peavy and Carlos Quentin to be healthy and productive all season, and Alex Rios to not be a waste of $9.7 million and a roster spot. Meanwhile, the Tigers are looking at Jeremy Bonderman and Dontrelle Willis/
Nate Robertson
to round out their rotation. You see now why I don't think losing Joe Nathan will necessarily cost the Twins the division.
Royals: 65-97. The Royals will once again contend for the worst record in baseball, but will probably fall short against the Pirates or somebody. Actually, the way things are shaping up in Toronto, Kansas City might not even be the worst team in the American League, though it will be pretty darn close. Despite boasting a
Cy Young winner
and
one of the best closers in the league
, the Royals will be lucky to avoid finishing dead last in the division for the fourth time in seven seasons. Kyle Farnsworth might be the fifth starter, that should be fun.
Three Keys to Success for the Twins
:
1) Converting every single flyball pitcher on the staff to a groundball pitcher. Seriously, Rick Anderson needs to get on this, like, yesterday. On any given night, Delmon Young (-18.9 UZR/150), Michael Cuddyer (-10.1 UZR/150), and Jason Kubel (-18.7 UZR/150) will be allowing routine fly balls to fall in for hits all over the outfield. Learn to throw worm-burners*, Scott Baker!
2) Francisco Liriano staying healthy and not sucking.
I said this last year
, and the Twins won the division anyway, even though F-bomb couldn't do either of those things. The division doesn't look to be all that strong this year, so the Twins could probably win it anyway even if F-bomb stinks. Still, a healthy and effective Liriano is the closest thing to an ace the Twins have right now, and likely the difference between contending for the division and contending for the pennant.
3) Michael Cuddyer and Jason Kubel not regressing. Some might point to Delmon making big strides as a key to the Twins' success, but it's important to remember that Cuddles and Kubel Khan also put up the best numbers of their careers years last year. Delmon has been one of the worst everyday players in the league the past couple of seasons, so he'd have to vastly improve just to be a league-average outfielder. And it would be wonderful if Delmon would do just that, it's just that a league-average player probably won't have much impact on the outcome of the season. However, If Cuddles and Kubel Khan, 2.0 and 3.1 WAR players last year respectively, both take a huge step backward, as
CHONE
projects
, the Twins could be in serious trouble.
Rest of the League Predictions
A.L. MVP: If he stays healthy,
your reigning AL MVP
.
N.L. MVP: Whether
he stays healthy or not
: the best player in all of baseball. Seriously, kid's a machine.
A.L.
Cy Young
: I think this will finally be King Felix's year.
N.L. Cy Young: I think this will finally be Roy Halladay's year.
A.L. Rookie of the Year:
Anthony Slama
Danny Valencia
Max Scherzer
N.L. Rookie of the Year: That
Heyward fella
in Atlanta.
A.L. Breakout Player of the Year: Delmon Young. I know I say this every year but this is really going to be his year.
N.L. Breakout Player of the Year: I'd like to vote for
Delmon's NL counterpart
, but it's hard to look at Jeff Francouer's hot streak after being traded to the Mets as anything more than that. He doesn't seem to have changed his approach at the plate much, and, well, Frenchy just seems kind of dense. So, I'm going with...Aaron Harang.
A.L. Comeback Player of the Year: I've said this every year since 2007, but this really is F-bomb's year.
N.L. Comeback Player of the Year:
Doug Mientkiewicz
Jim Edmonds, maybe? I don't follow the National League that closely.
A.L. Playoff Predictions: I think the Twins are gonna sneak past the Yankees in the ALDS for once, and then the Red Sox/AL West team in the ALCS.
N.L. Playoff Predictions: The Braves are going to win the Wild Card and then sweep everybody, setting up:
World Series Prediction**: A re-match of the
greatest world series of all time
, with the Twins again beating the Braves in seven games and putting to rest, once and for all, the silly notion that they would never have done it without the Metrodome. Scott Baker will play the role of Jack Morris in this updated version, and Denard Span will stand in for Kirby Puckett. It's too bad Go-Go isn't on the team anymore, he could probably fill in for Dan Gladden quite nicely: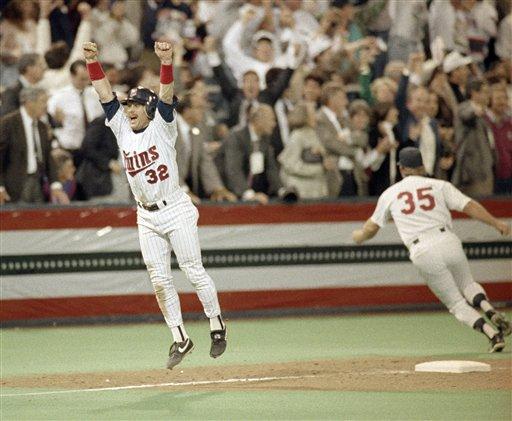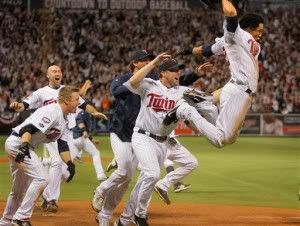 *Bryz bait!
**May not actually happen. Look, even I know that a team with so many question marks probably won't make it very far in the postseason, if they even make it that far at all. Humor me, people.